Andrew Frezza knows all about overcoming the odds. He knows about adversity and not letting it get you down; looking at it more as a challenge that must be conquered than a wall too high to climb.
The recent Bishop Hendricken grad also knows that sometimes even when it appears everything is under control and the so-called barriers have been cleared, there's something inside you, something that can't be spotted by the naked eye, that can sometimes produce an even bigger challenge.
Those are the stories that Frezza wants to share. Those are the stories he feels are so important for others to know. The small scar on the right side of his stomach, the words that were told to his parents shortly after he was born, the words that his mother uttered to him just over a year ago, those are the reminders that something must be told.
"My goal is to help people," he said. "I'm hoping that no one will ever have to go through what I've been through. It was so tough."
For the 19-year-old Frezza, his journey didn't begin at Hendricken. It didn't begin on the trails or the oval where the Johnston native was among a stellar group of distance runners for the Hawks' track and cross-country teams. His journey began at the Hasbro Children's Hospital on March 30, 2004. That was the day when Frezza and his twin brother Jake were born. That's where the path he soon was about to follow wasn't always straight, often making twists and turns where the end never seemed to come into sight.
Like most newborns, mom and dad's pride and joys were able to come home soon after they were born. But after a few days, his parents noticed that something didn't seem right with their son, Andrew. He wasn't eating, he wasn't drinking and breathing was difficult."
After spending a month at Hasbro, monitoring his health and trying to figure out what was going on, Frezza was then transported to the Boston Children's Hospital, the No. 1 children's hospital in the world. It was there that his parents, Kerri and David, were given news that no parents ever want to hear about their child, about their newborn.
"My mom was telling me that when we first got there, she met with a doctor by the name of Athos Bousvaros. He specializes in the GI tract of diseases," Frezza recalled. "The first thing that he said was 'I'm not sure we can save him, but we'll do everything we possibly can.' That hit everyone."
The first few years of his life, where he spent weeks, often months in and out of hospitals, was touch-and-go for Frezza and his family.
"(They) had no clue what (they) were in for, no clue," he said. "The only thing that was keeping me alive was a feeding tube and certain meds. This kept me going but it would only keep me going for a short period of time. One day when I was in the hospital, my face just completely changed colors out of the blue. I couldn't breathe. The doctors came rushing in. Little did I know I was dying. This happened about four times and I survived those four times. How I did, I don't know and will never know."
After several years of trying to find an answer, it was diagnosed by Bousvaros in 2007 that Frezza was suffering from a rare genetic disorder known as Immunodysregulation Polyendocrinopathy Enteropathy X-Linked Syndrome, commonly referred to as IPEX Syndrome. According to an article on MedScape (reference.medscape.com), "Most affected children die within the first two years of life. IPEX syndrome is an X-linked recessive disorder with exclusive expression in males."
"It's a horrible immune disease and what it does is affect the organs, the GI tract of the body," Frezza said, "Basically your liver is failing. It's a combination of things. Physically, you are very weak. I was in a wheelchair for four to five years. Most of the time I had to be pushed around. Most of what I ate was through a tube. I couldn't eat anything in the mouth. Three to four years I was fed through a tube and could just eat formula. I still have the scar where the tube was."
An X-linked chromosome disorder is heredity in the Frezza family. A year before Jake and Andrew were born, their mom suffered a miscarriage that was attributed to it.
IPEX syndrome is a very rare disorder. At the time when he was diagnosed with it, Frezza was the first ever case at the Boston Children's Hospital and only the third or fourth in the world. As of now, it's still highly uncommon with one out of a million people receiving the diagnosis.
Besides his doctor and the medical staff at the hospitals that catered to him, Frezza credits his brother for saving his life. The only cure for IPEX syndrome is through a bone marrow transplant. In need of a donor in 2010, his brother proved to be the perfect match and the procedure was successful.
"I remember everything from that day," he said. "If you don't know what I'm talking about, it's kind of like the day you wake up and are nervous and excited about a championship game, like the Super Bowl or Game 7 of the World Series. But 100 times greater than that. My dad told me before my brother went into surgery the doctor said to him, 'Jake, are you ready?' My brother responded, 'I'm ready to save my brother's life,' as he walked into the operating room with his head held high."
It was then that Frezza would experience the next challenges of his life. The first of which was adjusting to time lost during his long ordeal with the disorder. While the transplant was a success, there were still plenty of surgeries on the horizon to close up scars and skin reconstruction from the numerous wires and tubes that were attached to his body throughout his long ordeal.
"I was cleared to start school but was home-schooled for a year," he said. "This is when my parents made the decision for me to stay back a year. I missed out on a lot. I had no friends and I wasn't social because most of my life was in the hospital. This is where my elementary school days came into play."
And sports would soon play an integral role in his development, both physically and mentally. Throughout his youth, Frezza participated, and excelled, in soccer, tennis, baseball, lacrosse and hockey."
Not too long later, running was introduced to Frezza
Before experiencing success at Hendricken, Frezza first competed as a runner in junior high at St. Thomas Regional in North Providence. Practices were held just once a week and races took place every Wednesday on a three-kilometer course at Roger Williams Park in Providence. He soon found that he had a knack for long-distance running and a competitive fire that was hard to extinguish.
"This is where it all started," he said. "That's where I became competitive. My first cross-country race, I came in second place. This kid beat me and I told my dad I'm never going to let that person beat me again. My dad's like, 'Yeah, yeah, yeah…whatever.' Turns out I was right, I beat that kid every meet."
Frezza's success at the high school level was noticed early. He recalls the first time that he met legendary coach Jim Doyle, who would prove to be more than just a coach during his four years running for the Hawks. While the 75-year-old Doyle is known as one of the top high school track and cross-country coaches in the country, Frezza was unfamiliar with Hawks' mentor.
"I was thinking he was just another coach," he said. "I remember the first day of practice and this guy getting out of his car with shades. I kind of looked at him and was like, 'Who is this guy?' Coach (Danny) Brennan said, 'That's coach Doyle. We call him the beaver… I didn't know what I was getting into."
Despite his runner knowing very little about him, Doyle knew about Frezza before he arrived on the Hawks' campus in the fall of 2019.
"I first heard about him from the principal at De La Salle Middle School, who was a friend of my wife, who recommended that he come run for me because she knew that I would give him individualized attention," he said. "I never heard of (IPEX syndrome). No one has. In speaking with his parents, I quickly understood that he had a serious situation and that previously people in his family have not survived. He had tremendous support from his parents, his grandparents. They were unbelievable. When he came to Bishop Hendricken, he had great support from the faculty, from the administration, his teammates."
As a ninth-grader in cross country, Frezza finished sixth at the Freshmen State Meet. He was also fourth in the frosh race at the Manhattan College Invitational in New York where he beat fellow teammates and good friends Keegan Tierney and Troy Silverstri. His sophomore campaign was highlighted with top finishes in cross country at the Class A meet (eighth) and State Meet (18th) and a PR of 8:57.01 for the 3K at the class championships in the spring where he was eighth overall.
"He had success going from his freshman year to his sophomore year," Doyle said. "He now knew what he could do. What happened next is that he had a setback."
That setback was depression.
In the summer of his sophomore year in 2021, Frezza experienced the pinnacle of his young career in mid August when he captured the 5K race at the annual Bobby Doyle Summer Classic. He beat a field that included Devin Kipyego, who would earn multiple state and national titles at Saint Raphael Academy. Frezza was timed in 15:46, 13 seconds ahead of Kipyego.
"When I won that race, that was like the highest point I've been," he said.
A stress fracture in the big toe of his right foot forced him to miss the season-opening Injury Fund Carnival at the beginning of his junior year. He was able to bounce back quickly and eventually finished off the season by placing ninth at the class meet and matching his 18th place finish from a year earlier at the states.
Fast forward to the indoor season a few months later and Frezza was out once again. This time the injury was a lot worse. Shortly after competing in the division championships in late January of 2022, Frezza began to experience discomfort in the same leg, a discomfort that was soon diagnosed as a Grade 3 Stress reaction on the same leg.
"When I went to the doctor, he said, 'Do me a favor? Hop on one foot," Frezza recalled. "I was really struggling. He was like, 'You have to stop running for a bit.' The MRI was all white. When it's all white, it's also all a stress reaction. A Grade 3 stress reaction is the highest you can go."
"You have to stop running a bit."
Those were words that Frezza didn't want to hear. A sport that gave him great comfort, a sport where he endured success and great friendships with his teammates was now forced to put on hold.
Fitted with a boot for five weeks, Hendricken runner missed the remainder of the indoor season and most of the outdoor season.
That's when the depression began to start.
"He had bouts of severe depression, remembering what his life was like and what he went through and it affected him," Doyle said."His parents rallied again and we did, too, at Hendricken. He had to go on medication. It really affected him, but he had no choice. He came to me and was very frustrated. He wanted to run what he ran previously. I was like, 'You can't do that right now.' This is tremendous adversity he had. I always say, if you go through adversity, you are going to be successful."
"Believe me, I've had no one go through adversity like that and what he was going through," he added. "I was like, 'You got to remain positive.' His way of remaining positive was running every day and being with his teammates."
It was that winter during a run in his neighborhood that Frezza had thoughts that there might not be a solution. That he might never get back to where he was before athletically and his only option was to put an end to it in an unfavorable way for him and his family. His late uncle, Tom Cavanaugh, a former San Jose Sharks draft pick and minor league player, took his own life at the age of 28 in 2011.
A similar fate is what Frezza felt might be the best option.
"Depression runs in my family," he said. "It really does. My grandfather on my mother's side of the family is where it runs. I opened up to my grandfather because hes been through it, too. He almost died from suicide. My brother Joseph had severe depression when he was seven years old, but is doing great now."
Frezza remembers the day he called his mom to tell her what he was thinking.
"I was very disappointed that day," Frezza said, "It was a Saturday. My parents had no clue. That was the scary part. That was very scary for all of us. I was running and I wasn't feeling right. I wasn't feeling right mentally. I wasn't feeling right physically. I said to myself, 'There is no point. Why am I here? There's no point I have to go through this. I called my mom and told her I am ready to give up. She started crying and she turned around and said, 'You should have given up a long, long time ago, but you never did.' If she didn't say that, honestly, would I be here? I don't know. She was correct. I was like, 'You know, you're right."
Throughout his ordeal, Frezza often opened up to Doyle.
"He told me a few times how he felt," said the Hawk coach. "Ironically, I said the same thing (as his mom). I said, 'Listen, you've gone through so much, why would you stop now.' Things weren't going right. He was hard on himself. He just wanted things to be perfect."
With encouragement from Doyle and his parents, Frezza reached out for additional help the next day by contacting the mental health program at Hasbro. After four days there, he moved to the Butler Hospital, a hospital that deals exclusively with mental health patients.
"Coach Doyle was the one that got me in there, and my parents," Frezza said. "He really changed my mind that I needed to get help. And I got the help I wanted. It was bad. I just got so depressed. I didn't want to live."
It wasn't long that Frezza realized that therapy was an important component to his recovery.
"Butler was awesome for me," he said. "I went to Butler (out-patient) for a week. I was so against group therapy, but I learned so much there. The people that I met and were going through other situations, I really felt like I could connect with them and it actually changed my mind about group therapy. I really love doing it now. It actually made me open up more."
"It was a long journey," Doyle said. "The most important thing is that we realized that he has to get back to good health. He also had to take medication. The type of medication he takes interferes with running. I didn't care. It was more important that he had a good mental attitude about himself, and how he felt."
Getting support from a wide range of people, including family and friends, has also been helpful. In addition to Doyle and his family, Frezza lists several others who have stepped up in his time of need, including former teammates like Ryan Dyer, Evan MacGregor, Dawson Reynolds, Wilson Jablonski, Josh Breard, Silverstri and Tierney.
"I can list so many people, but those are the guys that have made a huge impact on me," he said. "I can't forget coach (Dan) Brennan and coach (John) Manning as well. I was very fortunate to have coach Brennan as a teacher at Hendricken, too. He's got my back. Coach Manning was the first person I talked to at practice on my first day. He's a really good coach and understands the ups and downs I've been through."
Doyle classified Frezza's fifth-place finish at last fall's state cross-country meet as a "remarkable comeback,' and a sign that his star athlete was slowly getting better. On that day, Frezza was the No. 2 runner for the Hawks, who won their 26th team title.
"Last summer, we worked diligently. We had a lot of discussions. He honestly could have been running right there with Troy. He knew that," said Doyle, while making reference to Silverstri's runner-up finish to individual winner Devan Kipyego of St. Raphael Academy. "Devan has improved tremendously. I didn't want to set him up for that. I told him, 'You're the fifth man on the team. That's your goal. Stay there the entire season and that's how you can help us become state champions. There's no pressure.' When he got to the State Meet, he stayed back, moved up and he was successful."
Frezza's improvement continued throughout the indoor and outdoor seasons and this past summer where he competed in a few road races, highlighted by a fifth-place finish at the Run4Kerri Road Race on Aug. 6.
"This summer is the best training I've ever had. I lost (16) pounds and went from 128 to 112," said the 5-foot-4 harrier.
Regular therapy continues to this day and so does the medication. Frezza knows of its importance and is well aware it will be ongoing for a while.
It's now onto the next chapter of his life. This fall, he's attending Rhode Island College where he'll compete for head coach Tim Rudd on the school's cross-country and track teams. Practice for cross-country, where he's predicted to be the No. 1 runner on the team, began Monday.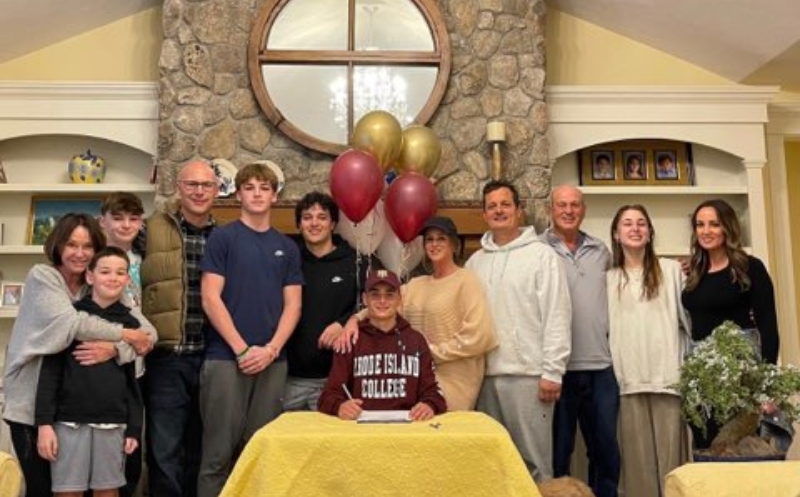 "A little bit before spring, we started talking about college," Doyle said. "He kept up with his studies but he struggled to get through Hendricken the last few years with everything that was going on. He wasn't really thinking about college. I talked to his mom and dad about Rhode Island College. It's close to home. They'd love to have a runner with his ability. He was getting better because they were reducing his medication. Tim was very accommodating. He got him in there. He'll take four courses and go home every night. We know it's a journey. He's got a way to go. But I'm confident."
Frezza is looking to not only improve as a runner, but help others that might be going through similar struggles like he did.
"No matter what you go through, no matter how hard it is, you are never alone…never," he said. "There is always help. My goal in life is to help others going through a battle, whatever it is. Mental health is real."